Kurdistan Parliament's orders and resolutions in July 2019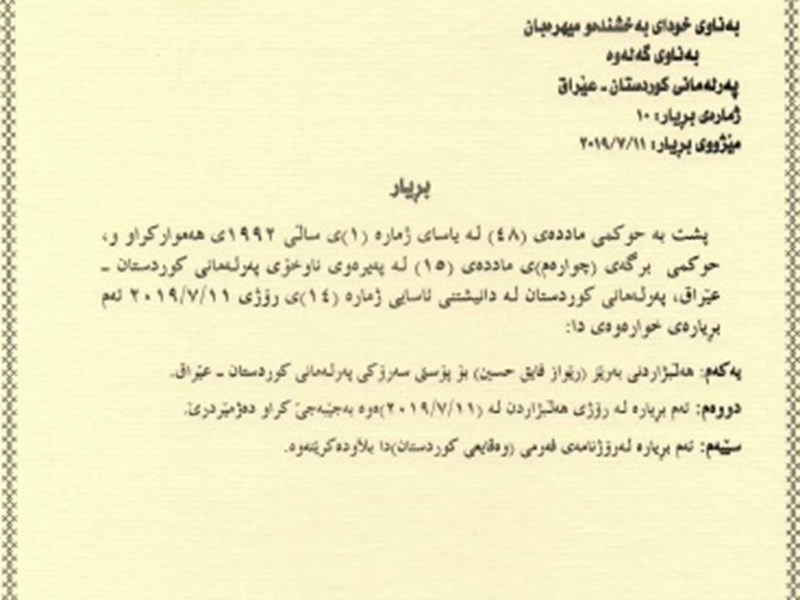 The Kurdistan Parliament publishes online the following recent orders and decisions:
Resolution no. 9 on the Kurdistan Parliament's majority votes of confidence to the Prime Minister and the ministerial candidates of the ninth KRG cabinet
 Resolution no. 10 on the election of Dr. Rewas Faiq Hussein as Speaker of the Kurdistan Parliament
Order no. 3 on the election of Reving Heruri (KDP) as new Chair of the Kurdistan Parliament Committee on Peshmerga, Interior, Security and Local Councils
Order numbers 4 to 7 are on the automatic relinquishment of Kurdistan Parliament membership for the MPs that were appointed as ministers in the ninth KRG cabinet, as follows:
Order no. 4 on Dr. Vala Fareed Ibrahim (KDP, former Speaker)
Order no. 5 on Begard Talabani (Begard Dilshad Shukrullah, PUK)
Order no. 6 on Aydin Marouf Salim (Turkmen Front)
Order no. 7 on Abdullah Haji Mahmud (Abdullah Mahmud Abdullah, Sardam, Socialist Democratic Party).
Please scroll through the gallery below to read the resolutions and orders.