Kurdistan Parliament holds remembrance ceremony on 34-year commemoration of chemical bombing of Halabja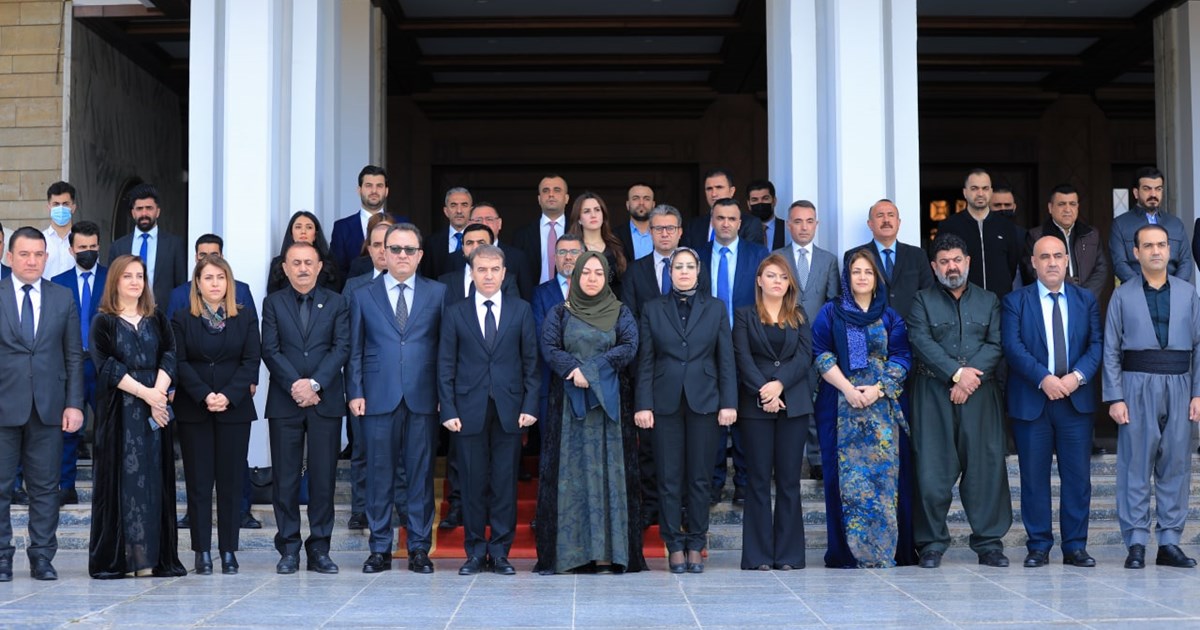 Kurdistan Parliament's Presidency, MPs and staff on 16 March 2022 held five minutes' silence outside the Parliament building in remembrance of the chemical bombing of Halabja 34 years ago in 1988, which killed 5,000 civilians.
Speaker Dr. Rewaz Faiq, Deputy Speaker Dr. Hemin Hawrami, Secretary Muna Kahveci, MPs, the Chief, Deputy Chief and staff of Parliament's Diwa and other Parliament staff were at the Parliament remembrance ceremony.
Kurdistan Parliament's Presidency released the following message to mark the commemoration of the tragedy:
On the anniversary of the chemical bombing of the dear city of Halabja, we honour the martyrs of the tragedy and all the martyrs have gave their lives to liberate Kurdistan.
Today, 16th of March 2022, 34 years have passed since the genocidal killing by chemical bombing of innocent civilians in Halabja. It is a wound in our nation's memory and history that cannot be healed. In the conscience of all Kurds, it is a deep and ongoing pain, a crime that was committed not only against our children but was a crime against all humanity, just as Hiroshima, Nagasaki and the Holocaust were.
That is why on this solemn commemoration we condemn the perpetrators of this great crime and we ask the international community and human rights organizations to recognize this crime against humanity as genocide, so that such crimes will never be repeated anywhere in the world and so that the people of Kurdistan gain some protection from such threats.
The Kurdistan Parliament, within the framework of its responsibility under Law No. 1 of 2015, passed the Halabja Provincial Administration Law in the Kurdistan Region – Iraq, and passed Resolution No. 23 of 2014 on designating Halabja as the capital of peace in the Kurdistan Region. Following that law and resolution, Halabja became a governorate and the official capital of peace.
Under Article 132 of the Iraqi Constitution and in light of the decision of the High Criminal Court, the Iraqi Government must compensate the victims of the Halabja chemical bombing and Halabja's citizens. We ask the Iraqi Council of Representatives to pass a law to recognize the genocide against the people of Kurdistan and that reinforces the rights of the victims to compensation for their material losses and psychological damages.
The martyrs of the Halabja chemical attack and all Kurdistan's martyrs live on in our hearts and minds.
Presidency of Kurdistan Parliament
16 March 2022