Deputy Speaker Dr. Hemin Hawrami to Head of UNAMI Regional Office Mr. Ricardo Rodriguez: Parties' views on the election starting to converge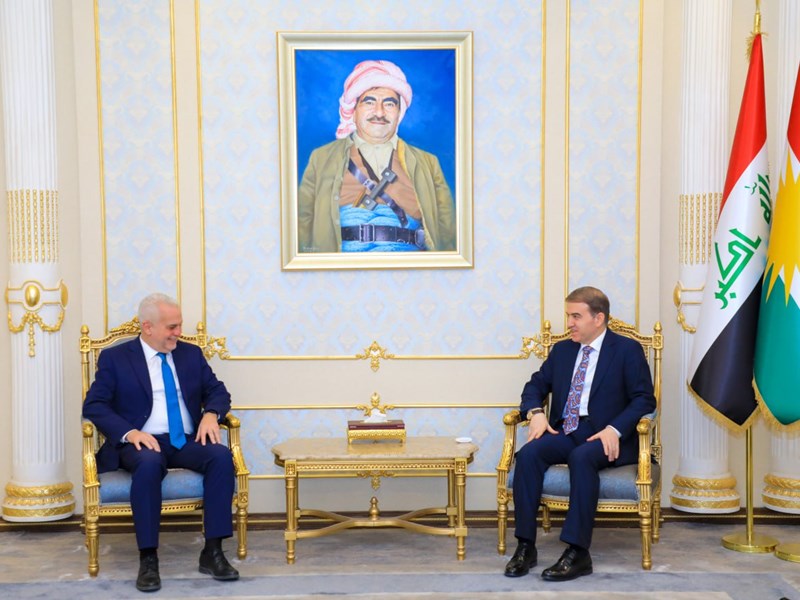 Kurdistan Parliament Deputy Speaker Dr. Hemin Hawrami on 23 January 2023 met with Mr. Ricardo Rodriguez, the Head of UNAMI's Regional Office in Erbil.
They discussed the latest political developments in the Kurdistan Region and Iraq and the issues surrounding holding the next Kurdistan Parliament election.
On the importance of the election for the sixth term of Parliament, Deputy Speaker Hawrami said, "The election is the public's right, there will be greater confidence in the democratic process if the election is held on time every four years. But because of political parties' differences of opinion on how the election should be conducted, their demands about how to renew the election commission's mandate and the technical preparations, on which there was much debate, the current term of Parliament has been extended for a year so that the parties can find common ground on those issues as well as on the technicalities. Fortunately, the parties' views on the election are starting to converge."
Dr. Hawrami pointed to the politics, legalities and practicalities of the election process. He said, "To hold the first reading of amendments to the Election Law and to renew the mandate of the election commission, which have been proposed and submitted by different parties to Parliament's Presidency, we must schedule an extraordinary* Parliament sitting. After finding some common ground and political consensus on these bills, it's Parliament duty to arrange their second reading and then vote on them. At the same time, the electoral commission's mandate will be renewed and the vacant positions in the commission filled. Then the commission can prepare the technicalities for holding the election this year."
Deputy Speaker Hawrami called on UNAMI, the international community and organizations that monitor elections to support Kurdistan's democratic process by monitoring the election here.
* Currently Parliament is in recess until 28 February. Sittings held during a recess are  extraordinary sittings.