Order of Business for sitting of 15 March 2023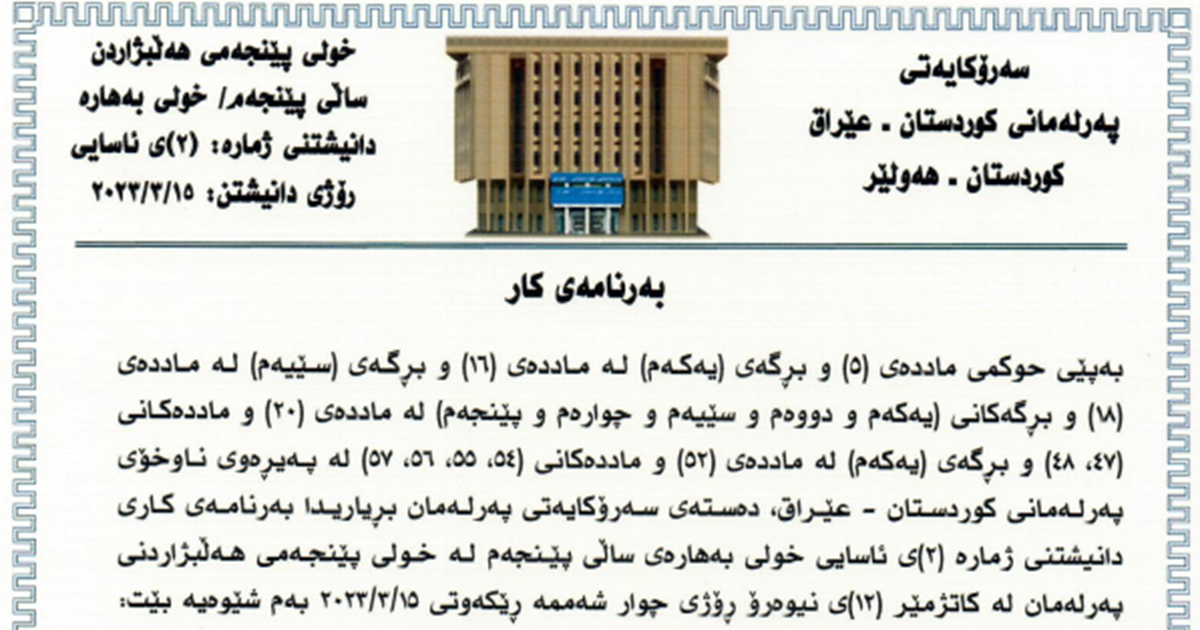 The Speaker of the Kurdistan Parliament Dr. Rewaz Faiq calls MPs to a sitting on Wednesday 15th March 2023 at 12 noon, the second ordinary sitting of the spring session of the fifth year of the fifth term of Parliament. The Presidency of Parliament announces the order of business of the sitting as follows:
1) Formation of a committee comprising Members of the Kurdistan Parliament for the nomination of members of the Council of Commissioners, per the provisions of the Law on the Independent High Commissions for Elections and Referenda, Law No. 4 of 2014 (Article 5, paragraph 1, point 1).
2) Swearing in of the following candidates as members of the Kurdistan Parliament, to replace members who resigned from the same list, per the provisions of Article 27 of Parliament's Internal Rules of Procedure:
Hussein Osman Sharif Omar, replacing Sherko Jawdat Mustafa (KIU).
Islam Saadi Ali Mamak, replacing Abubakir Omar Abdullah (Haladny, KIU)
Abdullah Hassan Hamad Hassan, replacing Esmail Ali Taha (Sgery, KIU).
Lili Ali Abdulaziz Mohammad, replacing Sarchnar Ahmed Mahmood (KIU).
Birwan Faqi Ismail Basu, replacing Halz Ahmed Mohammed Hassan (Botani, KIU).
Dler Abdulkhaliq Haji, replacing Ali Hama Saleh Taha (Change Movement).
Mehdi Ali Abdullah Rahim, replacing Kazm Faroq Nameq (Qaradaghi, New Generation).
The Presidency of the Kurdistan Parliament decides and announces the order of business of this sitting according to Parliament's Internal Rules of Procedure, Article 5, Article 16 (paragraph 1), (Article 18 (paragraph 3), Article 20 (paragraphs 1, 2, 3, 4, 5), articles 47 and 48, Article 52 (paragraph 1) and articles 54, 55, 56 and 57.